Our Teachers
Sacred Heart is blessed to have wonderful, dedicated teachers with a diversity of backgrounds and a community of families who share a commitment to the tradition and legacy a classical Catholic education can provide for their children.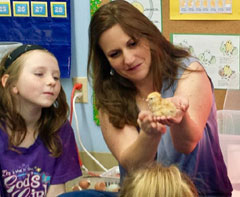 Mrs. Kellie Edwards
Curriculum Director / Head Teacher
Kellie's love for teaching started in childhood. A Cody native, she pursued her teaching dream at Black Hills State University in Spearfish, South Dakota. In 1996, she graduated with a degree in Elementary Education and Early Childhood Development. During her time at BHSU, Kellie served as the President of the Black Hills Association for the Education of Young Children. Following her undergraduate degree, she continued with Master's courses in Child Psychology.

Kellie met and married her husband, Bryan, of 20 years in the Black Hills. Together they have four amazing children, two sons and two daughters. The two youngest Edwards children are current Sacred Heart Students.

Having spent many years in the hospitality industry, Kellie's heart has always been in education. She has taught Preschool through High School students in various settings over the last 20 years. With most of her teaching experience in a parent cooperative environment, Kellie recognizes the importance of the parent's role in their child's education. At Sacred Heart, Kellie enjoys teaching with other parents as they work together to promote a life long love of learning in every child.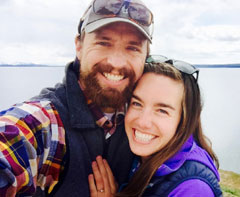 Miss Shannon Sullivan
Teacher
Shannon Sullivan was born and raised in Lincoln, Nebraska. She attended Catholic grammar and high schools and graduated from Hillsdale College in Hillsdale, Michigan, in 2012 with a History Major and Latin Minor. After graduation Shannon accepted a fourth grade teaching position at Great Hearts Academies in Phoenix, Arizona. She spent two years in Phoenix before moving to Jackson, Wyoming, to teach at Jackson Hole Classical Academy. There she taught all subjects to fourth through seventh graders and was entrusted with multiple growth projects including curriculum development, mentoring new teachers, and helping to create the school classroom management and discipline policy. Since 2010 Shannon has spent her summers working with children at Camp Buffalo Bill Boy Scout Camp east of Yellowstone National Park and has recently relocated to Cody.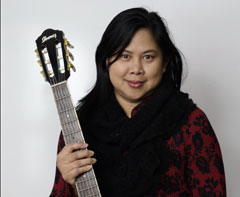 Mrs. Patricia Wormington
Music Teacher
My name is Patricia Wormington and I am happy to be part of Sacred Heart Co-op as a Music Teacher. I completed my Bachelor Degree in Accounting from Atmajaya Catholic University Jakarta Indonesia in 1995 and Master Degree in Music Therapy from Anglia Ruskin University Cambridge UK in 2003.

I always enjoy helping students to learn new things and to be creative. I have been a music teacher in the last twenty-four years. My main instruments are classical guitar and piano and I love singing too. I also have been working as a Music Therapist in the last sixteen years in the UK, India and the USA, working with children with special needs, teenagers with behavioural problem, and adults with cognitive disabilities and mental health problems. I have gained my certification as a Neurologic Music Therapist from Colorado State University in 2013.

When I am not teaching, I am involved in church music ministry as a Music and Choir Director at St. Anthony of Padua Cody. I also work as a Music Therapist at the Spirit Mountain Hospice House, Long Term Care unit for elderly residents, pre-schoolers at Children Resource Center and at my private practice. In my spare time, I enjoy swimming, going for a spiritual retreat, traveling and spending time with my little family.

I am grateful for all the experiences I have attained and the students I have had the honor to work with. My favorite life motto is "Be the change you wish to see in the world."